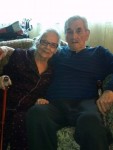 Resided in

Albany

,

Oregon
Obituary
Florencio Gomez Jr.
February 25, 1932 — June 23, 2019
Era Gomez
February 28, 1931 — July 13, 2019
Florencio Gomez Jr, 87, died at home on June 23, 2019.
He was born in George West, Texas to Florencio Gomez Sr and Matilda (Colunga) Gomez.
Era Gomez, 85, died at home on July 13, 2019.
She was born on February 28, 1931 to Christopher Ratcliff and Mary (Gonzales) Ratcliff in Houston, Texas.
The couple were married on September 19, 1949 in El Camp, Texas.
Florencio and Era are survived by Gloria, James, Nellie, Margie, Pauline, Gary, Brenda, Florencio III; numerus grandkids and great-grandkids.
They were preceded in death by their parents; and children, Bobby, Mabel, Billy and Gary.
Both were laid to rest at Willamette Memorial Park next to each other.
At the family's request no services were held.
Services
Service
Fisher Funeral Home, Inc
306 Washington St. SW
Albany
,
OR
US
97321
Visitation
Fisher Funeral Home, Inc
306 Washington St. SW
Albany
,
OR
US
97321
Cemetery
Fisher Funeral Home, Inc
306 Washington St. SW
Albany
,
OR
US
97321