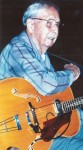 November 22, 1926
-
May 10, 2018
Born in Grand Forks, North Dakota
Resided in

Albany

,

Oregon
Obituary
Lawrence Jerome Sannan was born to Edwin L. Sannan and Gertrude Trach Sannan in Grand Forks, North Dakota November 22, 1926. He grew up in Roseau, Minnesota. His grandparents lived on two farms that were joined by a footbridge. He considered his childhood idyllic, being surrounded by grandparents, aunts, uncles and cousins. He recalled that every night when the dishes were done the families would come together and almost every night there was music. "Almost everyone played something". The love of family was ingrained early in his experience and continued throughout his entire life.
In 1937 his family moved to Baudette, Minnesota on the Canadian border. Here he had a group of close friends who got together every week. Making music was a big part of their fun. It was during this time that he met the love of his life, Helen Mae Crabtree. She didn't like him at all, but she sure liked his guitar playing. In the summer of 1938 he started working for her dad in construction. She said her dad liked Larry far more than she did. That changed, and they were married May 8th, 1947.
In the early years of their marriage, along with Larry's parents they owned and operated a restaurant and service station. This was a family endeavor. During this time they began their family. Similar to Larry's growing up days, their children also grew up surrounded by grandparents, great, and even great great grandparents all living in the same block. It was a small community where Larry wore many hats, always able to make or repair anything for anyone. Again family and music was central to their lives.
In 1965 Larry and Helen moved their family to Albany, Oregon where Larry worked at Oregon Freeze Dry building their refrigerator plants. They raised their family during this time and their home was always open for whatever or whoever came along. South Albany Community Church was a big part of their lives. In the middle of it all was family and music.
Larry retired from Willamette Industries where he worked as a millwright in 1989. Larry and Helen became "snow birds" and spent several months every year in Desert Hot Springs, California where they made many close friends. Again, music was a daily part of those trips. Then the grandchildren arrived,
sometimes two or three a year. This was truly the highlight of their lives. Larry "salted" their gravel driveway with agates, just to make them feel successful. They were welcome in his shop, where he let them make their own creations, then were put on display for anyone who came, to see. They had motorcycle riders, piano players, guitar pickers and singers. Life just got better when the "greats" started coming.
In 2010 Helen passed away. Larry missed her daily, but threw himself into family life again, just in a reinvented way. He was playing his guitar and singing a few songs before breakfast the morning he went into the hospital for the last time.
He is survived by his sons, Bob and Joel Sannan; daughters, Amber Blaylock, and Palma Holzhouser; 13 grandchildren and 28 great grandchildren.
He was preceded in death by his parents, wife Helen and granddaughter Amy Jones.
His parting statement for everyone he encountered was this: "Blessings on you".
A memorial service will be at 1:00pm, Wednesday, May 23 at South Albany Community Church. Memorial contributions can be made to Teen Reach Adventure Camp (earmarked Bibles), sent in care of Fisher Funeral Home, 306 Washington St. SW, Albany, OR 97321.
To plant a tree in memory of Lawrence Sannan, please visit our
Tribute Store
.
Services
To plant a tree in memory of Lawrence Sannan, please visit our Tribute Store.
Memorial Service
South Albany Community Church
2418 Geary SE
Albany
,
OR
US
97322