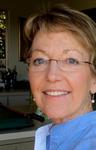 June 20, 1950
-
March 1, 2016
Born in Glendale, CA
Resided in

Albany

,

OR
Obituary
Lynn Powers, Albany resident of 35 years, beloved wife to Jim, mother to Ben, Kyna and Kelly, daughter to Jan and Bill Kunz, sister to Greg, passed away March 1st.
Lynn Louise Kunz (Powers) was born in Glendale, CA. As a child Lynn loved horses and spent many warm afternoons riding, bareback, into the foothills above her home. Gazing down across an infinite expanse of orange groves, arid soils, rocks and scrub, homes, roads, tiny cars, tracks and the sound of distant trains in the breeze, her core philosophy and worldview took seed, as hills preceed out of gray distance:
"All of this must be united by a single, interrelated, Truth."
"Any grand theory of meaning had to apply equally to man and nature,
stones, plants, animals, humans, all of this"
Lynn graduated from Glendora High in 1968, Foothill Community College in 1970 and achieved a Bachelor's Degree in Art History from Occidental College , L.A. in 1972. I like to think Lynn used her college time well, acquiring both a degree and boyfriend for life, lucky me, James Gordon Powers, and we were married in a small, home wedding in 1972.
We moved to Upland, CA. where her passion for nature and her garden would became apparent, as in the dark of night, we filled garbage bags with fall leaves from street gutters, to compost the soils of the garden from which would new life would sprout.
We moved twice more in California and Lynn planted new gardens each time. Her nurturing skills, joy, creativity, quiet patience and humor were also poured into the new lives of our growing family: first twins Ben James Powers and Kyna Lynn Powers (1979) and Kelly Anne Powers (1981).
In April, 1981, we uprooted everything we knew and migrated 1, 000 miles north to Albany, Oregon. Here, transplanted, Lynn and I and Nature co-created our home, garden and life. This is where Lynn returned to Nature, 35 years later, in our bed in the early morning hours of March 1, 2016.
Lynn raised three amazing children, and grew vegetables, fruit trees, flowers, lawns, pathways and friends. Our family grew as each of our children found loving spouses and married in Lynn's garden: Ben & Laurel Ventimiglia Powers, Kelly & Zach Mull Powers and Kyna & Jim Aydelotte Alders. In her last week Lynn was planting grandmother kisses on four grandchildren, Max, Audrey, Lilly and soon-to-be-born Peanut.
As time allowed, Lynn returned to art school and began spreading her art throughout the community where it still lives on police cars, street flags, signs, logos, brochures, posters, buildings and schools. Her spirit permeates.
Lynn continued putting in her "brush miles" in watercolor painting and achieved state, national and international recognition. Lynn loved nourishing the artistic dreams of other artists as teacher, mentor, colleague and friend as well as her own. With her special gifts and gentle humor she put others at ease and invoked the best in them.
Lynn was also the most loving, patient, life supporting co-creator of my dreams. And when, at the turn of the millennium, she saw my spirit wilting, she fearlessly dreamed with me our new family business, Creative Catalyst Productions where we hosted, filmed, edited and blew art instruction videos into the world.
Lynn's special passion was watercolor portraits and her ability to express the core character of her subject, not just it's likeness, was coming into full bloom just as her heart and our hearts were all broken, March first.
By her bedside we found books by Poet, Mary Oliver, with these words marked:
"So...what will you do with your one wild and precious life?"
and her diary which opened with these words:
"Whoever reads this, please know that I am ultimately very grateful for life,
deeply happy and lucky with my loved ones.
I am rich in everything that matters,
everything that feeds the soul, spirit and heart."
Lynn - daughter, sister, wife and co-dreamer, mother, grandmother, friend, artistic light, you will be missed in body and live long in spirit. Thank you for your life.
A Celebration of Lynn L. Powers - Laughter, Tears, and Hugs
In Lynn Powers' home and garden - Sunday March 20, Noon-5 PM
36006 SW Bryant Drive, Albany, OR 97321
RSVP - KellyAnnePowersStudio@gmail.com for more information
Gifts to the "Albany Public School Foundation, Lynn Powers Art Fund" PO box 225, will seed art for new generations.
To plant a tree in memory of Lynn Powers, please visit our
Tribute Store
.
Services
To plant a tree in memory of Lynn Powers, please visit our Tribute Store.
Celebration of Life
At the Powers' home
36006 SW Bryant Dr.
Albany
,
OR
US
97321