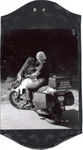 February 25, 1919
-
March 7, 2015
Born in Albany, OR
Resided in

Albany

,

OR
Obituary
Mary, Mary ... quite ... ready to hop on her motorcycle and ride up to "Motorcycling up Memory Lane!" Mary Belle was met there by many family loved ones who were waiting for her to give them a ride on her BMW!

Her first ride on a motorcycle was on her older brother, Harvey's, bike and then she was hooked! She began her own cycling adventures (mainly in the San Francisco Bay area and surrounding areas) in the 1940s with her husband, Don, on their Harley and Indian. They rode for a few years until their daughter, Roxanna, started grade school and then they sold their bikes.

Mary Belle took up her greatest life passion again in the 1980s when she was in her early 60s and rode on the back seat with her husband, Walter. For her birthday, she received a new BMW and off she went, traveling all over the United States on many trips. She attended motorcycle rallies and won numerous awards at them for being the oldest woman and coming from the farthest distance to the event. She also went on a trip to Mexico with a group of women riders and a trip up to Edmonton, Alberta, Canada, where she lived from age 6 weeks to 3 years. She had a few memories of up to age 3 there before she and her family moved back to Albany.

Many people recognized her on her travels and were fascinated by her and her sign on the back of her bike "GREAT-GRANNY IS MOTORCYCLING DOWN MEMORY LANE." She retired her bike at age 70.

Mary Belle was a very unique person and had a fun, sometimes slightly mischievous, but hilarious sense of humor! She was named after each of her grandmothers, Mary and Bella, and was the second born of 12 children into a Mennonite family. Mary Belle had a great love of learning and curiosity of life. She attended Grand Prairie School in Albany, high school in California, and Portland State University. English was her favorite subject, especially writing. She excelled in writing and later won two cars (one in the 1950s and one in the 1960s) through contests she entered when she had to come up with a clever slogan for the companies she won the cars from, as well as other prizes she won over the following years.

Mary Belle had a great love of family. She had five children in between her cycling years. Those years were also filled with many adventures taking her kids to visit all her relatives and go on vacations, too.
She lived in various places throughout her life (Oregon, Washington, California, Nevada, Arizona and Colorado) due to the kind of work her husband did and other various reasons.

Mary Belle was a very passionate, compassionate, empathetic, giving and loving person, due to her wonderful Mennonite upbringing, which she held onto all of her life.

Her final 40 years were spent in Redwood City, California, Keizer, Corvallis and then Salem before moving into Quail Run at the Mennonite Village. Then after falling, she was moved to the Mennonite Home at the Mennonite Village, having good times with a few of her relatives that lived there and the many friends she made there, too.

Mary Belle attended Albany Mennonite Church and was baptized in there. She was a member of numerous motorcycle and environmental organizations.
Her hobbies were traveling, reading, writing, cooking, entertaining and gardening.

She is survived by her son, Mark; daughters Alivia and Alison; brother Robert "Bob"; nine grandchildren and five great-grandchildren.

She was preceded in death by her parents, William and Emma; siblings Wilma, Ruth, Junior, Norman, Harvey, Ronald, Maynard, Charles, Ethel and Clarence; children Roxanna and Donald Jr.; grandchildren David, Justin and Daniel; and great-granddaughter Coral.

A memorial service and celebration of life will be from 2 to 4:30 p.m. Saturday, March 21, at the Mennonite Village Lakeside Center, 2180 54th Ave. S.E., Albany. Chaplain Teresa Moser will officiate. Appetizers will be served after Mary Belle's memorial service.

Memorial contributions may be sent to Love's Door at lovesdoor@gmail.com or PO Box 1185, Philomath, OR 97370; or Mennonite Central Committee at donate@mcc.org.
Services
Service
Mennonite Village Lakeside Center
3405 Kizer Ave2180 54th Ave. S.E.
Albany
,
OR
US
97322