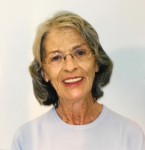 July 21, 1934
-
November 10, 2018
Born in Aberdeen, Scotland
Resided in

Albany

,

Oregon
Obituary
July 21, 1934 - November 10, 2018
Muriel White, 84, of Albany passed away on Saturday, November 10, at Hospice House.
She was born to Andrew and Peggy Raeper in Aberdeen, Scotland, and she received all
of her early education there. She trained as a nurse at Aberdeen Royal Infirmary,
specializing in midwifery, and over the course of many years in the profession she
delivered or assisted in the delivery of many hundreds of newborns. She continued her
career as a midwife at Addenbrooke's Hospital in Cambridge, England, where she met
her future husband Jim when he was an undergraduate at the university. Together they
emigrated in 1959 to Vancouver, British Columbia, where Muriel continued her
midwifery practice in association with Vancouver General Hospital. She and her
husband subsequently moved to Boston when Jim became a graduate student at M.I.T.,
and with midwifery becoming less widely practiced Muriel took a nursing position in
surgery at Massachusetts General Hospital. At MGH she worked with several worldclass
surgeons and with one of them she earned the privilege of assisting in the first
successful re-attachment of a severed human hand. The move to Oregon in 1971
brought a slower tempo along with opportunities for a number of volunteer activities that
included Muriel's participation in efforts to disseminate information about the prevention
and health impact of AIDS as well as a stint in the Peace Corps that took her to
Jamaica. Throughout this time, Muriel maintained close ties with her Aberdeen family
and returned quite frequently to Scotland for visits to family and friends. She was a
staunch advocate for Scotland's independence from England and was never hesitant
about expressing this view. She enjoyed a busy social life in Albany, preferring the
companionship of like-minded ladies who shared common interests. One of her groups
that formalized this relationship was the Tea Sippers Club. Throughout her life Muriel's
first concern was always for others, and her caring spirit earned her the love and
respect of all those who came in contact with her. She will be missed by the many who
knew her warmth and her generous personality. Muriel is survived by her daughters
Julie White and Amy Blake, by her three grandchildren Andrew, Logan and Annie, and
by Scottish niece Janice and nephew Graham. She was predeceased by her brother
Leslie and sister-in-law Hazel. Online condolences may be left at
www.fisherfuneralhome.com. Contributions may be made to Valley Aids Information
Network (VAIN) valleyaidsinfo.org or Aidsunited.org.