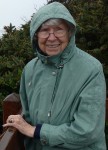 November 13, 1935
-
June 5, 2018
Born in Riverside, California
Resided in

Albany

,

Oregon
Obituary
November 13, 1935 - June 5, 2018
Patricia Irene Archibald, 82, of Albany, passed away peacefully among friends at her most recent home at Lydia's House in the Mennonite Village after several years of struggle with advancing dementia that limited her activities but not her characteristically cheerful, kind and playful spirit. She was born in Riverside, CA to educators Dr. Frank Edward and Minnie Ann (Parli) Bishop, who cultivated in their three daughters their Nebraska-derived Methodist values of service to the community through both teaching and promotion of healthy living. She was raised in a sunny Redlands-world of orange groves, dress-up pony-riding portraits, and abundant victory gardens, but also home-front blackouts and ration stamps. Despite admiring and emulating her substantially older sisters, she took charge of her own unique path, foreshadowing her future as a founding South-Albany-High-School (SAHS) 'Rebel' staff-member. She rejected being called Patty by her older sisters and instead took the nickname Pat. By the time Pat graduated from Redlands Senior HS in 1953 she could list many club and volunteer activities. Pat also landed a bit further from home when she studied for a BA in Teaching at the then-new Goleta campus of UC Santa Barbara (1957); apparently bitter-sweetly for her father, who wrote daily letters to his youngest daughter. There she also joined the fraternal organization Alpha Delta Pi, whose history of advancing women through higher education predates the State of Oregon. So it was the talk of both the family- and faculty-room when, while at her first teaching job at Pomona High School, she dated, and later married in Redlands (August 23, 1958), another hard-working young teacher, an ambitious and industrious Oregonian named Lee Archibald. They stayed at Pomona a short time longer, but then he sold the car her father had given her and took her up north via a partially-constructed I-5 to build together a home life, dual careers and several beautiful homes in scenic sites in Oregon.
In 1969, after the young couple planted solid roots in Albany and their two sons started school, Pat served briefly as swim coach, and health & PE teacher at Albany Union HS, before moving across town to teach health at the newly 'seceded' SAHS. She became recognized by her peers as a dedicated and effective teacher that rose to address the health- and employment-seeking challenges facing students during a time of great social change. Pat took OSU graduate education courses throughout her career, and also developed such an extensive knowledge in the area of sexuality education in secondary schools, that she eventually served as an educator of educators in that area. After Pat retired from SAHS in 1993, the family joked that half the youth in Albany had learned about sex from her. Pat also sought social connection and joyful camaraderie wherever she went and whatever she did - fraternal organizations, clubs, boards, churches, charities, etc. As SAHS students of the 1980s celebrated the end of classes each school year with mildly juvenile shenanigans, so did the faculty - courtesy of Pat's 'Champagne Breakfast' gatherings at her home near the Santiam River. Pat facilitated American Red Cross blood drives at SAHS, and community health through American Heart Association activities such as Mall Walks and Jump Rope for Heart. She was a long-time member of the local chapter of Philanthropic Educational Organization (PEO) that among other things provides an annual scholarship for the advancement of young women pursuing higher education. One illustration of her quiet and humble commitment to service is that she was a Junior Red Cross board representative in high school, and over her lifetime she donated nearly 12 gallons of blood. As she navigated medical- and senior-care in Albany in later years, she took great satisfaction in becoming reacquainted with former students and PEO scholarship recipients that had pursued health careers. Throughout her life, Pat enjoyed nature and travel, and expressed herself distinctively in fashion, selection of personalized gifts, and numerous collections such as her unapologetic assemblage of duck kitsch. Family, friends and many in the wider community will remember Pat fondly and appreciatively, and dearly miss her physical presence on earth.
Pat is preceded in death by her parents; Sister Kathleen Tilson; and her husband Alfred Lee Archibald, who died in 2009. Pat is survived by her sister Janet Nienaber of North Oaks, MN; sons and daughters-in-law, Jeffrey and Lesa (Brown) Archibald of Salem and Douglas Archibald and Gretchen Kuldau, of State College, PA; and grandchildren Brenna, Alanna, Sienna, Iris and Jasper. Private interment will be at the Lebanon I.O.O.F. Cemetery. A celebration of her life will be held at the First United Methodist Church in Albany on July 14the at 1:00 pm. Condolences may be posted online at www.fisherfuneralhome.com. The Patricia and Alfred Lee Archibald Fund (#1212) of the Advisors Charitable Gift Fund (ACGFund.org) has been created to enable Pat's sons to direct any donations to her preferred public charities.
To plant a tree in memory of Patricia Archibald, please visit our
Tribute Store
.
Services
To plant a tree in memory of Patricia Archibald, please visit our Tribute Store.
Burial of Ashes
Private
Celebration of Life
First United Methodist Church
1115 28th Ave SW
Albany
,
OR
US
97321