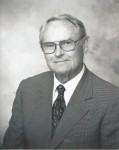 September 28, 1923
-
May 8, 2020
Born in Craigmont, ID
Resided in

Albany

,

Oregon
Obituary
Robert R. Lowry entered into this world on September 28, 1923 and departed on May 8, 2020 due to complications from Alzheimer's. Bob was born at home on the family farm near Craigmont, Idaho to William Lowry and Mona Ward Lowry. Bob's grandfather had come to America as a boy with his family from Northern Ireland in 1870. Before coming to Idaho the Lowry's had settled in Missouri. Bob had two siblings, Loretta and Dave. Farm life wasn't easy, but Bob greatly enjoyed talking about growing up on the farm. He often liked telling family how he was old enough to remember going to silent films as a young boy, and that when he started working on the farm he was paid $1.50 a day, which he liked to remind people that was a good wage at the time. They farmed with horses until Bob was a teenager, and the family grew wheat, barley, and oats, and raised hogs. The farm didn't get electricity until Bob was a Junior in high school (1939}, thanks to the Rural Electrification Act under President Franklin Roosevelt.

Shortly after his high school graduation, Japan attacked Pearl Harbor and World War II began for America. Bob joined the Navy and served as a Pharmacist's Mate (today called a Hospital Corpsman). He was stationed in the South Pacific during the war on Bougainville, Biak, and Owi, and towards the end of the war in the Philippines on Samar. He was devastated to find out near the end of the war that his first cousin Loren Mitchell had been killed in the Battle of Okinawa. Bob was very close to his cousins Loren and Margaret who grew up nearby the Lowry's.

After the war, Bob attended the University of Idaho and met Barbara Dayton on a blind date. They married in 1947 and both graduated from college in 1948. Bob and Barb then moved to Albany in 1948, where Bob took a job with the Charles H. Lilly Seed Company. During the Korean War, Bob was called back to service, where he served on a Net Tender ship. He relayed that one of the most terrifying experiences of his life occurred during the Korean Conflict when the ship went through a typhoon in East Asian waters. In 1967, Bob and two farmers, Willard McLagan and HG Olsen, started Willamette Seed and Grain Company. Bob served as President and General Manager for Willamette Seed for 31 years until it was sold in 1998. Bob was a past president of the Oregon Seed Trade Association and worked throughout the years to promote the seed industry in various organizations in Oregon and the U.S.

Bob was a longtime member of the United Presbyterian Church in Albany. Bob also served on the Foundation Boards of LBCC, Albany General Hospital and Mennonite Village.

Bob greatly valued his family during his life and all the friends that he and Barb made in Albany and the surrounding areas. He and Barb loved working in their yard and garden. As Bob advanced in years, he often joked that he was getting "old and gray, and bent with the chill of the winter's day," but he always said it with a chuckle. Bob was a cheerful, positive and optimistic person. Even during his struggles with dementia, his innate good nature never diminished. He will be deeply missed.

He was preceded in death by his wife Barb, his siblings Loretta and Dave, and cousin Loren. He is survived by his daughters Shirley Spisak and husband Bill, and Maureen Looney and husband Bill, four grandchildren, three great­ grandchildren, and cousin Margaret Shriner.

A Celebration of Life will be held at a later date when such gatherings are more feasible. Donations can be made to the charity of one's choice.