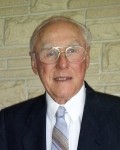 October 30, 1924
-
October 31, 2018
Born in Berwyn, Illinois
Resided in

Albany

,

Oregon
Obituary
Robert James Frolik
October 30, 1924 - October 31, 2018

Robert Frolik, 94, died on Wednesday, October 31, 2018 in Albany.
Bob was born on October 30, 1924, in Berwyn, Illinois. He enlisted in the Army in 1943, and after a year in the Army Engineering Program at the University of Chicago, was assigned to the 96th Infantry Division at Camp Adair, Oregon.
Bob was a BAR infantryman in the first wave that landed on Leyte Island on October 20, 1944. After two weeks of jungle warfare he was seriously wounded. His heroism earned him a Purple Heart, Bronze Star, and Presidential Citation. After nine months in a hospital he received a disability discharge in September 1945.
Under the GI Bill, Bob attended Northwestern University in Chicago, then moved to Oregon, where he began a 46-year career as a Circuit Court Reporter.
In January, 1952, Bob married Evelyn Polasek of Albany.
Bob was also a musician. As a clarinetist, he performed with many bands and orchestras, and in the 1950s had his own polka band.
In 1960, he served as president of the Oregon Reporters Association. He also spent five years on the school board, and did volunteer work for AARP and the IRS.
In 1981, Bob became the first American to compete in the Intersteno Congress multilingual speed writing competition in Europe. He placed fourth in the world, and was honored by the Chief Justice of the Oregon Supreme Court.
Bob declined an invitation from the Bulgarian government to teach English writing on a Bulgarian steno machine. He developed a method to write Czech on an American steno machine, wrote a book teaching his system, and discussed it with the Czech parliament.
Bob retired from court reporting in 1996.
He enjoyed travel and visited Europe twelve times. He was proud of his Czech heritage and enjoyed researching his genealogy.
His pleasures included going to the Albany Senior Center, working with his computer, writing articles about his battle experiences, and working on a book about a murder trial he reported while working on a case in Prague and Vienna.
Bob was preceded in death by sisters Adeline Chrencik in 1995, and Irene Ruda in 2008. Evelyn, his wife of 62 years, passed away on October 23, 2014. He is survived by sons William in Albany and James in Cologne, Germany; daughter-in-law Libuse in Albany; and grandson Tomas and his wife Michelle in Texas.
A memorial service was held at 2 p.m. on Monday, November 5 at Fisher Funeral Home in Albany.
Contributions may be made in Bob's name to the Linn County Genealogical Society or charity of the donor's choice in care of Fisher Funeral Home, PO Box 156, Albany, Oregon 97321.