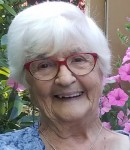 October 15, 1924
-
October 30, 2018
Born in Altoona, Pennsylvania
Resided in

Albany

,

Oregon
Obituary
Violet Ann "Pinky" Sarbeck
October 15, 1924 - October 30, 2018
Violet Sarbeck was born on October 15, 1924, the 7th of 12 siblings, to Mariano and Anna Pinizzotto in Altoona, Pennsylvania. As a young girl the family moved across the country and settled in Downey, California where the family truck farmed fruits and vegetables. Pinky was a drum majorette at Downey High School where she graduated in 1943.
In 1943 she met her future husband Lawrence Sarbeck who was stationed in California before he was deployed to the China Burma India Theater in WW II. Pinky and Gene were married on June 3, 1944 in Visalia, California and they would remain married until Gene's death in 2003. After the Great War, Pinky and Gene would settle in Cincinnati, Ohio where they had their first 4 children. In 1956 they moved to Ashtabula, Ohio where their twins were born. In 1968 the family moved to Belpre, Ohio. In 1974 Pinky moved with her family to Oregon where she would live for the remainder of her life, with 42 of those years at her Hilltop Way home outside of Scio.
The distinctive trademark of Violet was her friendliness, enthusiasm, perpetual optimism and a contagious zest for life. She was gregarious, outspoken and met and made countless friends wherever she went. Her nature was welcoming and warm and independent.
An example of her independence was when her children felt it was time to stop driving and took away her car keys. Shortly afterward it was discovered that she was driving. She had a hidden key! When her family found this out, she said, "I wanted to stop driving on my own terms, here is the last key!"
Among her hobbies were antiques, particularly depression glass, old lanterns, keys and glass insulators. Paramount to her interests were bingo, canasta and bunko. Above all were her significant regular contributions to the Oregon Lottery.
Pinky had six children; Bruce, Craig, David, Susan, and twins Karen and Wayne.
In 2016 Pinky moved for the last time. She sold her longtime home to her grandson Ben Sarbeck and relocated to a senior living home in Albany, Oregon where she thrived; meeting many new friends and doing many fun things, particularly with her caring daughter Susan Lee.
Vilolet Ann Sarbeck passed away peacefully with her daughters at her side after a heart attack on the morning of Tuesday, October 30, 2018, fifteen days after her 94th birthday.
She was preceded in death by her husband Gene, sons Bruce and Craig, and grandchildren Olivia and Matthew.
She is survived by her brother David, sister Marguerite, sons Wayne Sarbeck of Scio, David and wife Terisa Sarbeck of Paso Robles, California, Susan and husband David Lee of Lacomb, Karen and husband Daniel Cooper of Stayton, grandchildren Nathan, Jonathan and Tristan Lee, Brock, Benjamin and Brian Sarbeck, Carina and Aidan Sarbeck and one great-grandson, Jaxon.
We come into this world with the intent of making the world a better place for others. From Violets' genuine gusto for people and life, to her loving care for her children and grandchildren, she leaves the world a happier place. We have all been blessed by, and touched by, Violet Ann Sarbeck.
A celebration of Violet's life will be held at the Historic Carousel Museum in Albany, Oregon on Sunday, November 18 from 12:30 to 2:30.
Those wishing to acknowledge this wonderful woman's life are encouraged to donate to one of Pinky's favorite pastimes of reading to children at the Lacomb Elementary School at the SMART Reader Program at Lacomb Elementary School c/o Lisl Macloughlin/Johnson, 34110 East Lacomb Rd. Lebanon, OR 97355. Online condolences may be left for the family at fisherfuneralhome.com
To plant a tree in memory of Violet Sarbeck, please visit our
Tribute Store
.
Services
To plant a tree in memory of Violet Sarbeck, please visit our Tribute Store.
Celebration of Pinky's Life
Celebration of Life
503 1st Ave NW
Albany
,
Oregon
United States
97321